Black, Silver & Grey: Going grey when you have afro or curly hair
Singer-songwriter Molly Johnson, 63, looks fierce in her ombré grey hair. She and model Teruko Burrell are my when-I-go-silver hair-spirations. I found my first grey hair at 17, so it's been a slow progression, but during prolonged Lockdown I let my roots grow out. I, too, looked fierce – fiercely washed-out and fiercely tired. So, I retreated to the dye bottle despite it being an increasingly losing battle.
Since then, I've been noticing more and more women of colour looking fabulous in their grey, silver or white hair. My curly hair has more in common with theirs than the satiny locks featured in mature hair ads. So, I reached out to Sandria Plummer – a TNMA favourite who also looks fabulous in her natural colour – for advice on transitioning afro, textured and curly hair.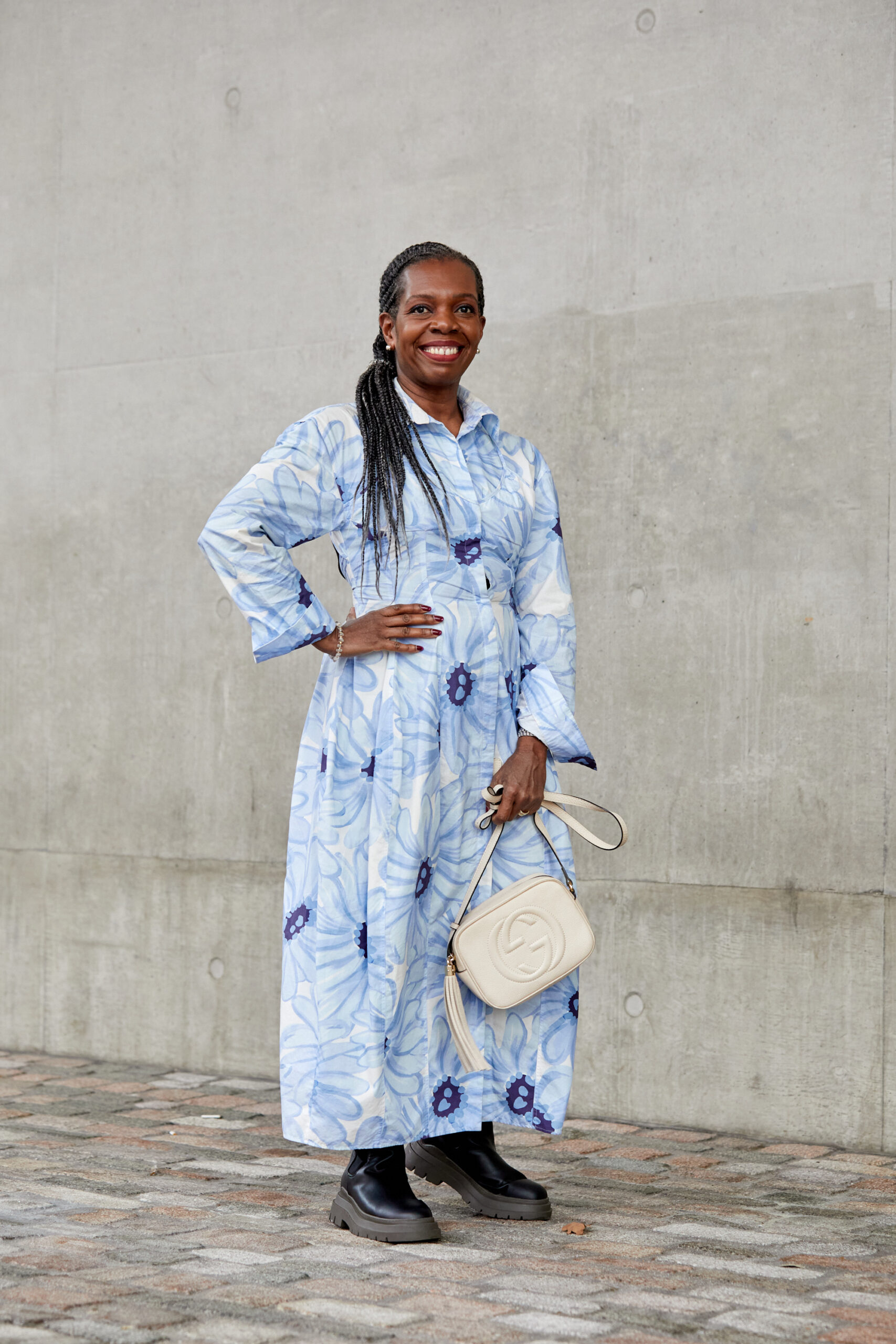 The Decision
Sandria has been transitioning her hair colour for about two years now, having decided the time was right during the first Lockdown. At the time, she had recently lost her mother and it was difficult to get her hands on products. "When my mother passed, her hair was very white – beautifully white. I looked in the mirror and saw my mother's face staring back at me and I thought, 'Yup, I'm done. Now is the time,'" says Sandria. "I wanted the Josh Wood hair colour with the Shade Shot – which I loved – but by the time it finally came, I thought, "I just can't be bothered." She acknowledges that everyone's journey is personal, "No one can choose that stage for you. It's a case of when you're ready, you're ready."
Transitioning Colour
Of course, a good hair professional can help to transition the colour, but for many who don't have the access, the budget for, or want to go chemical-free, what worked for her was, "investing in a lot of scarves and hairbands. Initially, my hair was very white around the edges and hairbands were great to cover the demarcation as it grew out." Since this transition was during the summer, she had a lot of fun with bands covered in cowry shells, shrimps and pearls, "I pushed the boat out and treated myself to a Prada one!" she laughs.
Sandria also found adding salt'n'pepper hair extensions – such as ponytails or buns – useful to unify the transitioning colour. Braids can also be a protective (and fun) way to grow out the grey. On a magazine shoot she did – mid-grey – Sandria says, "I remember the hairdresser wove in a brighter silver in some parts of the braids. You can choose to make it look greyer, or as salt-and-pepper as you'd like." And because you just don't know what you'll look like with a full head of grey hair, Sandria suggests that a good first step might be to simply try a wig and see if it suits you.
Changing Texture
"Hair texture changes as well," says Sandria. As a result, grey hair needs more deep conditioning and hydration. "Fortunately, around this time [of hair transition] Kerastase came out with their Curl Manifesto range," says Sandria. She mixes it up with a variety of products from affordable brands like Cantu and the Palmer's Coconut range, to more niche products like As I Am's spray-on hair moisturiser – which she adores. In between, deep conditioning treatments are recommended.
"One important thing I had to do was use a purple shampoo to take out any yellow and brighten the grey up." She warns, "you just have to remember not to leave it on for too long, otherwise you'll look like Mrs Slocombe from Are You Being Served?!" Transitioning hair can also suffer from breakage, the Olaplex system, customised shampoos from Prose and the DevaCurl range are also popular within the greying curly community.
Beyond the Maintenance
There's still a time commitment because grey hair is so much coarser, but Sandria says, "I am chemical-free with my hair. I don't relax it so, to also be free from the permanent dye has been liberating and a time saver."
Sandria has had a positive reaction to her new look; so, no regrets. "If I thought about this three years ago, I would have thought I'd instantly look older. But, I still dress the same. I still have my style going on and I've not looked back."
We also recommend award-winning hairdresser Charlotte Mensah's book on Afro, Textured & Curly Hair
Alexia Economou is a design and culture journalist, and regular TNMA contributor @thedesignfeedTW
Sandria Plummer, 58, is Executive Assistant to the Principal at CSM. Find her on instagram HERE.