Is my hair grey enough?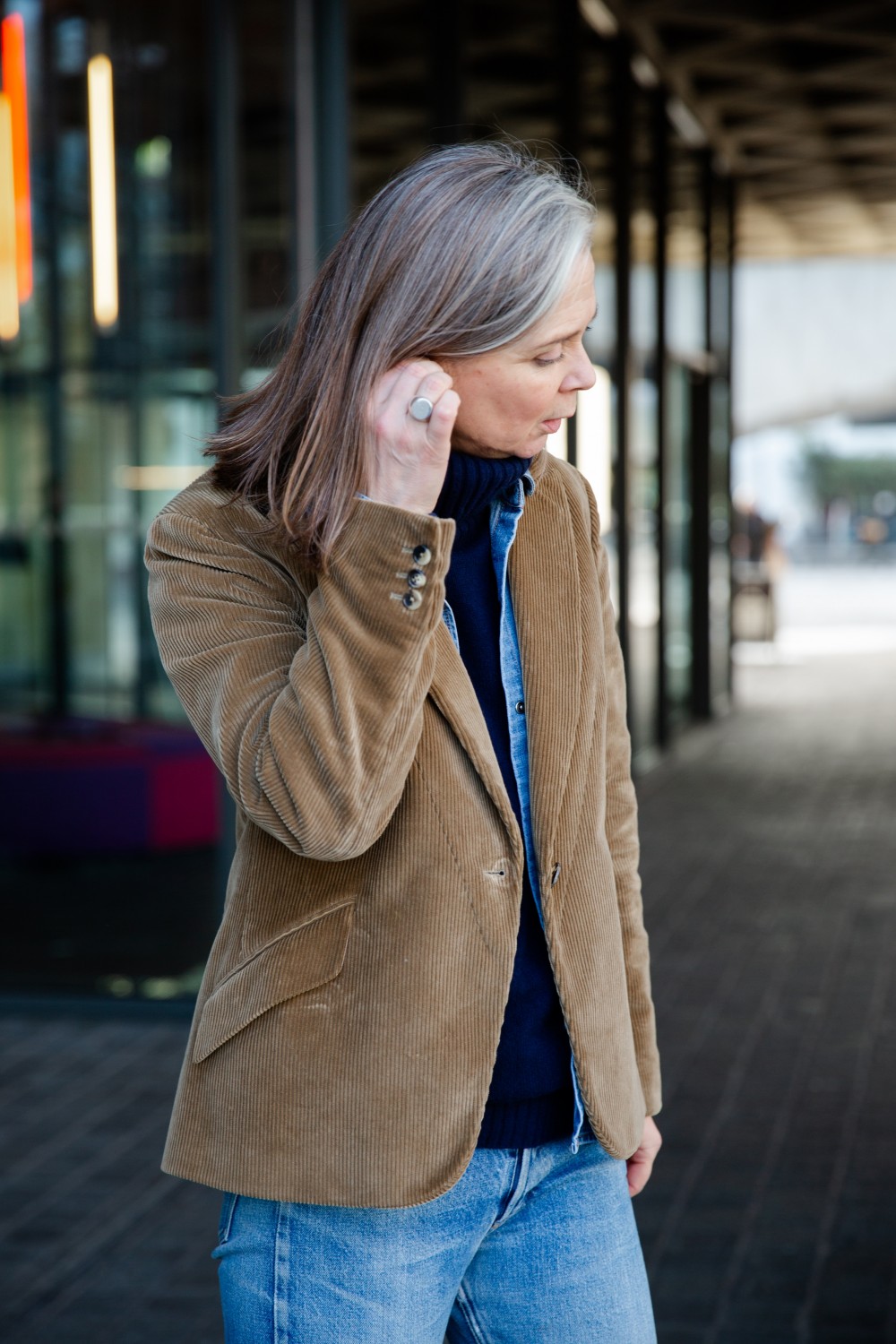 That IS my natural hair colour. After two and a half years, the dye job has disappeared and my grey hair has grown in. Surprisingly, the natural colour is darker than expected with natural streaks of dirty blonde-y, brown-y hair. Who knew? My gorgeous silver-haired friend Hilary Roberston was over from New York recently and I joked that my hair was NOT grey enough. Anyhow. Uncovering my natural hair colour after being a bottle blonde from the age of 15 has made for quite an interesting experiment. Once I'd gone through the horrible badger stripe, roots/regrowth stage, that is. Fortunately, I have a Mallen Streak of white hair at the front (it's been there for years) and this helped to deflect attention away from what was going on backstage. After years of blonde highlights I had no idea what my natural hair colour was going to be, but the mixture of warm and cool Scandi tones now revealed is infinitely preferable to the yellow dye job. RESULT: I like it.
At the end of last year, Pinterest predicted that in 2019 consumers would 'stop fighting the natural ageing process in favour of letting their silver strands shine through' (hello, Salma Hayek), this after searches on the social media site for the term 'going grey' went up 879%.
I was asked recently if I ever thought grey hair would hold me back at work. To be honest, this isn't something I'd ever considered as I work in the fashion industry on a freelance basis, and the general reaction has been very positive. People admire my natural grey hair. But I do know that women who work in other industries feel under pressure to look a certain way; basically, to look young and that means having young/coloured hair. Ageism is rife in certain businesses – and keeping up appearances involves a lot of maintenance, including regular dye jobs (some women go to the hair salon every few weeks) and various tweakments, in order to stay forever young. Hopefully, the increased numbers of women showing their silver hair will change all this.
Part of the fear of going grey when you're over-50, is that the change (of hair colour) will make you look older. I know I look my age and I'm happy with that. With age, comes self-acceptance and increased confidence. Admittedly, there are times when my hair is tied back and I catch my make-up-less-self in the mirror and get a bit of a shock. But I can always usher in the blusher. The reality of this grey-naissance is that I don't feel older. I feel authentic. I feel better.
And, my hair IS grey enough. I wish I'd done this sooner.
Here are some products that are good for grey hair:

Please note affiliate links in this post may generate commission.