Textile designer Molly Mahon talks colour, print and her new collection for Boden
Textile and print designer Molly Mahon is on a mission to infuse our homes with colour. Working from a studio at the bottom of her garden, in Ashdown Forest, Sussex, the 46-year-old uses the technique of block printing to decorate a range of fabrics, wallpapers and homewares. Having always had a creative streak, Molly booked herself on to a one-day, block-printing course and fell in love with the ancient, Indian craft, ' It was an instant hit of joy!' After several months researching like mad, developing her knowledge and skills at home, Molly realised there might be an opportunity to turn her new hobby into a business when a friend commissioned her to block print some wallpaper.
She launched her eponymous label in 2015 and now sells her vibrant collections across the world, in high-end departments stores, boutiques and via fabric wholesalers. Most homeware products are made in the UK, fabrics are block printed in India and a small number of wallpapers and fabrics are digitally printed (the design transferred from the original block print). Molly divides her time between designing, visiting her workshops in Rajasthan, Jaipur and nearby villages, and running popular print-making courses. And this week sees the launch of a collaboration with Boden on a small range of colourful clothing. The perfect combination…
I got in touch to find out more about Molly Mahon and what the future holds for her label:
Please tell us a bit about yourself and your background…
I'm a British textile designer based in East Sussex. I live with my husband and three children down a bumpy track in the middle of the Ashdown Forest. I have a studio in my garden where I design and print and an office just up the road. I have always enjoyed making things, but for most of my life I have seen creativity as a hobby. The business side of things really started the moment I was commissioned to do the hand-printed wallpaper, about ten years ago, and I haven't stopped taking orders since then.
Molly Mahon launched as a brand in 2015. It has been a gradual growth and we now have a small gang of people managing our lovely orders of fabrics, wallpapers and our growing range of homewares. My business is my life and the result has been a journey I feel most proud of.
What do you like most about traditional block-printing? 
Block printing has become a crazy love affair! I love the instant gratification of lifting the block. I love seeing a repeat pattern growing along the print table and I love the versatility of where the designs can be used – through cushions, curtains, lampshades, into fashion and bedding. Block printing takes time and effort, but the beauty of the effect and nuance of each print is something special and the human contact imbues the cloth with a story and a charm.
I am very passionate about the hand-printed look. The beauty lies in the simplicity of the process that in India has remained unchanged for hundreds of years. There is no doubt that a hand block printed piece of fabric carries the passion and story of each printer. 
And making something with your hands is very therapeutic. When I run my block printing workshops, I've noticed that people leave feeling calmer and more relaxed. Block printing is good for you!
Describe to me your creative process. Where do you find inspiration?
I have three areas that particularly excite me and where I tend to draw most of my inspiration from. Nature – all the wonderful leaves, trees and plants that surround the house where I live. Charleston Farmhouse – the wonderfully decorative house in Sussex belonging to the Bloomsbury Group. And India – the architecture, the patterns, the colour. All of the wonderfully uplifting elements of India, the colours, the noises, the hopes, the energy…it can all be seen more and more in my work. I see pattern in everything I do.
I have lots of sketchbooks and I start my designs by drawing them by hand in my studio, using pencil and watercolours. Then I carve the design into lino, experimenting with colour and repeat pattern to see how it might work on the cloth or wallpaper; it is a process that takes years to perfect. I adore playing with different colours next to one another, it creates an inner excitement. I actually think it genuinely releases happy hormones! 
Tell me about some of your most memorable projects…
It's been such an exciting journey as the business grows and I have worked and collaborated with lots of brilliant people along the way. During lockdown I made a conscious decision to channel my positive energy by sharing my love of block-printing, colour and pattern by creating potato tutorials and sharing them on YouTube. I was really blown away by the community and the encouragement it gave to me to champion creativity. I also released my first ever book House of Print: A modern block printer's take on design, colour and pattern – it's my love letter to block printing and covers my inspirations, my design journeys and then there's a whole section on how to do it at your kitchen table. I want people to read it and discover the joy of creativity.
What are you working on right now? 
I am feeling very excited as my capsule clothing collection for Boden launches this week. It's called Boden Loves Molly Mahon and features dresses, kaftans and nightwear for women, men and children – all crafted from BCI cottons and linens, as well as sustainable viscose. The edit is awash with spring colour and optimism for warmer months ahead. I have always loved the joy on offer from Boden, from their fun imagery to the bright, bold and patterned clothing for my children. When they got in touch I nearly fell off my seat. We are also busy working on our pop-up space at Anthropologie, Kings Road for London Craft Week, in May. And then a new fabric collection in September, and lots of workshops in-between.
Finally, how would you describe your style? And do you have advice for staying stylish?  
I would say my style is perfectly imperfect. I usually team a bright, patterned blouse or jumper with plain trousers and I love a jumpsuit too, I have a pink one which I will dig out for summer. I don't think there is a particular trick to using print and colour – you just have to try things. My new Boden collection is full of spring colour and joyful patterns. It's wonderful to see my designs transfer across from my usual range of fabrics and wallpapers to clothing, and I will be wearing lots of it this spring.
In terms of interiors, I think that every home should reflect its inhabitants and that your home is your home, even if you're only in it for a short time. Be brave and have confidence in yourself. Start by adding or changing something small like a lampshade or cushion and build from there. As long as you only include things you really love and that bring you pleasure, then it should just be timelessly stylish.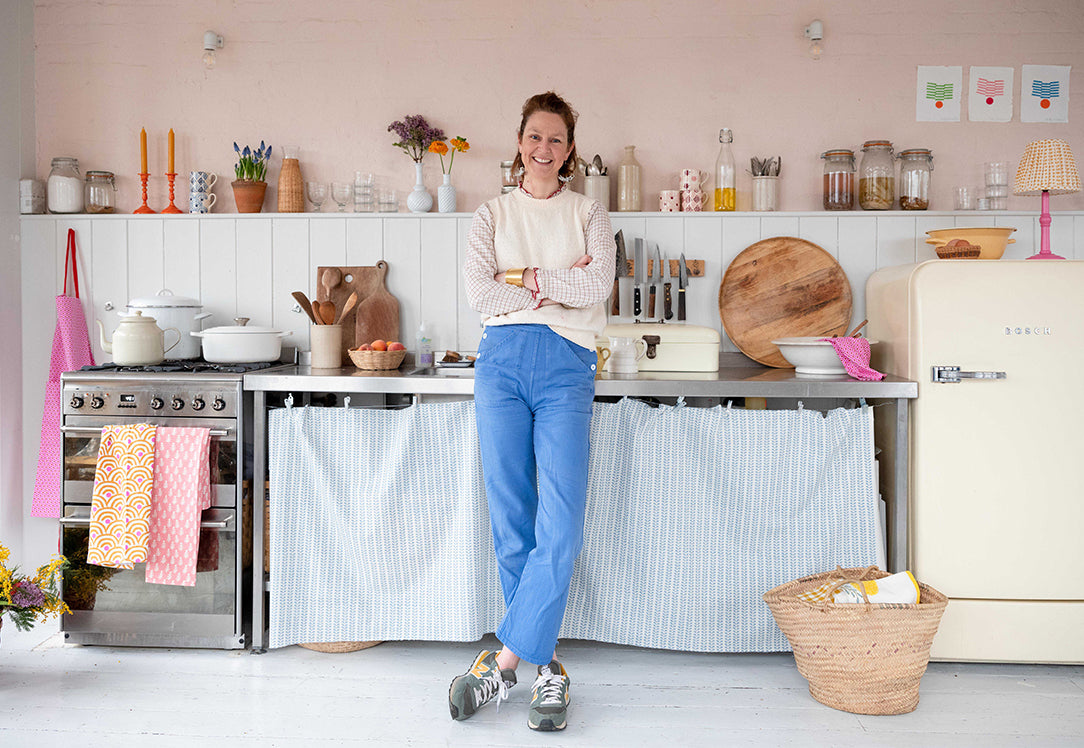 Shop Molly's joyful printed homewares on her website HERE. To celebrate London Craft Week 2022 Molly will be taking over Anthropologie's King's Road Gallery from the 5th to the 15th of May. The gallery will feature an eclectic mix of block printed designs. Molly also runs courses with Create Academy if you're interested in learning how to block print.