Making the case for Cocktail Trousers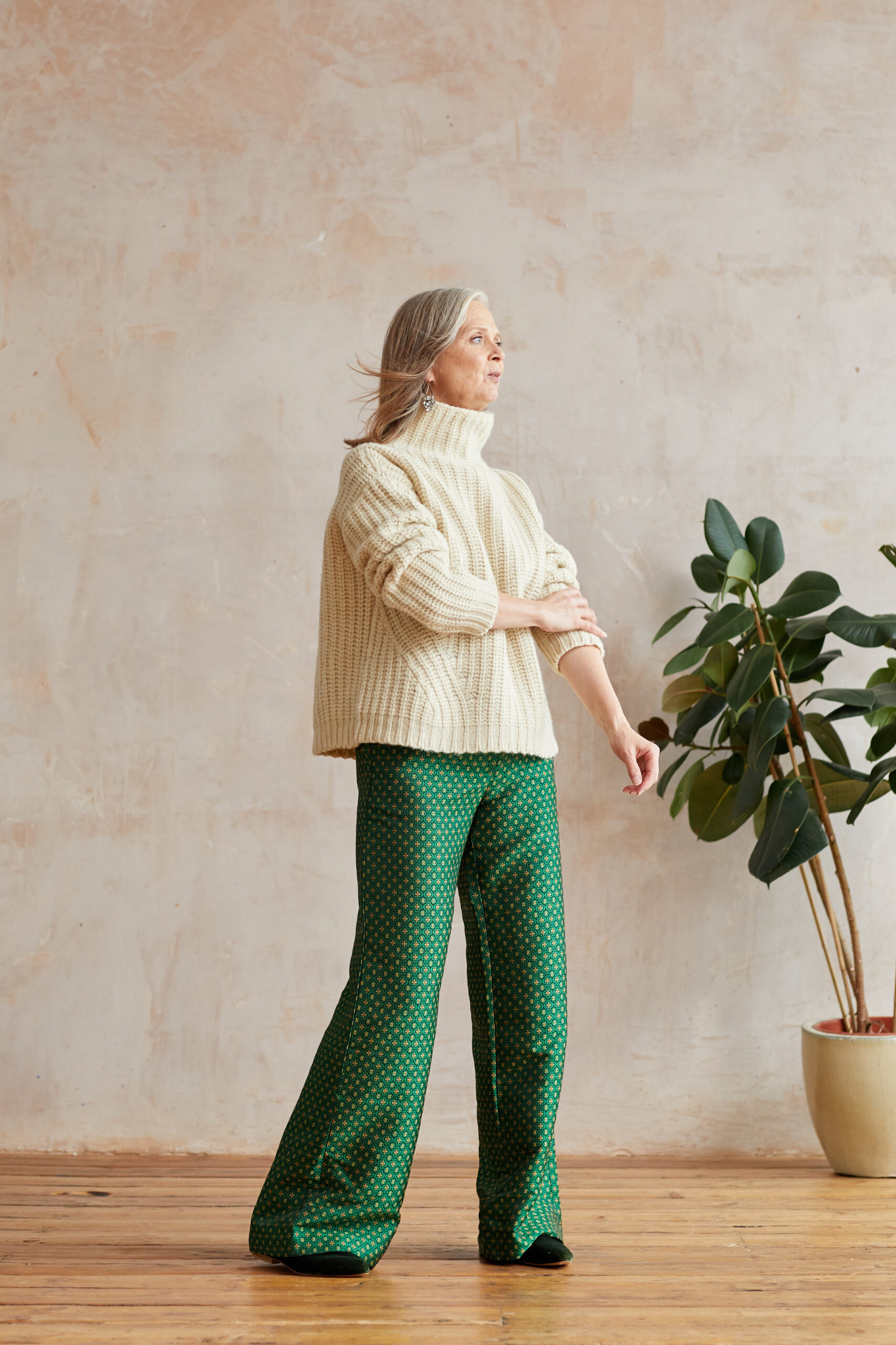 Rakish, versatile and fun, to me, a pair of Cocktail Trousers feels like a wiser investment than a party dress. The latter would spend more time in the wardrobe than in use  – and I've always been an elegant tomboy at heart. Imagine this fabulous pair of fancy pants in summer with a white shirt and metallic flats. Chic enough for special occasions, or just because. Now here's an admission – this outfit was a happy accident. It followed on from the quality not quantity feature with the gorgeous Jigsaw coat. I pulled on the Cocktail Trousers from Uterque while still wearing the Navygrey  'Hardy' jumper and liked what I saw. As a big fan of juxtaposing different fabrics and textures, I enjoyed the roughness of the Bluefaced Leicester yarn sweater paired with the smooth, snazziness of the brocade trousers. Proof that it pays to experiment and try different combinations of clothes, play around and practice.
If you're going real fancy, some of the best party pants can be found at Lisou, Saloni and La Double J. On the high street, LK Bennett has a fabulous sparkly, tailored Capri pant, (the pink version is reduced in the sale), Boden has a selection of eye-catching trousers (the patterned Danby style is reduced in the sale) and Anthropologie is worth a look.
One of the main benefits of Cocktail Trousers is how good they look with a cosy jumper. Dial things up by adding luxurious velvet slippers and statement earrings. Snug and stylish, feels just right for Christmas on the couch. Plus, this chunky knit is substantial enough to wear without a coat for outdoor socialising, or when you've got the windows wide open. Partying From Home (PFH), I'd swap  the Hardy for a cashmere sweater or Vintage sweatshirt (there's still time to order one)! Cocktail fashion is all about the conversation piece. Stand-out from the very small, lateral-flow-tested crowd with a pair of snazzy pants. Maximum impact, minimum effort.
More expert tips on Christmas dressing for subscribers, over on Patreon.

Style Notes: the green brocade Cocktail Trousers are from Uterque (returned after the shoot). The Hardy jumper was a generous gift from Navygrey. Velvet slippers, loaned and returned, Le Monde Beryl. My earrings are old Lulu Frost. (And I know the trousers look a little bit like decorative wind socks and need turning up, but I'd had my booster jab the day before and was feeling quite ropey. The That's Not My Age show must go on!)
That's Not My Age is supported by its audience. When you purchase through links on our site, we may earn commission on some of the items you choose to buy.