Winter style: choosing quality over quantity
We didn't need COP 26 and a quip about Kermit the Frog to tell us that the planet is in trouble. Being more mindful about how and where we shop and what we wear is a movement that has been gaining pace for several years. Across the generations. I love seeing my friends' daughters wearing vintage; whether that's a Victorian-style dress and brogues or 1980s retro sportswear, they always shop around and search for second-hand cool. And as a demographic who grew up before fast-fashion, I think most of us are careful consumers, too. We appreciate vintage and we know we don't need loads of new stuff. We have loads of stuff already.
When it comes to purchasing something new, I would much rather buy one fantastic item that I love and know I will wear for years. Often these are investment pieces, style stalked and then picked up in the sales. Like the Paul Smith boots and the MiH jeans I'm wearing in the photo below (both bought several years ago). The jeans were half-price on the  Liberty sale rail (similar at a much reduced price HERE) and the snazzy boots I spotted online and then waited for the sales. I wish I could share a system with you, but I'm not incessantly clicking and obsessing over clothes (which might sound a bit unlikely coming from a fashion journalist, but it's true), I tend to leave these things to chance. Browsing favourite shops on a quiet day (after the mad rush) and occasionally checking for that eye-catching steal online.
This beautiful herringbone tweed coat is from Jigsaw (loaned for the shoot and returned, though I have been thinking a tweed overcoat could well be my next purchase). Ace designer, Jo Sykes  – who has worked on collections for Giorgio Armani, Alberta Ferretti, Cerruti, Aquascutum and Nicole Farhi – has been with the company for a couple of years, but what with Covid and everything, her influence is only just showing through. And Jigsaw is looking good again.
The Hardy jumper from Navygrey is a limited edition piece made from natural, un-dyed British wool sourced from farms in the north west of England. Knowing I'm originally from that neck of the woods, the founder very kindly sent this gorgeous gift to me – and though I live over-300 miles away now, it feels wonderful to wear something made so close to home. See also Community Clothing. The Hardy is quite pricey but designed for longevity, basically this knit is so chunky and durable it's going to outlive me. Hardy by name, hardy by nature.
Choosing quality over quantity doesn't mean only buying expensive things. There are places on the high street selling excellent wardrobe basics that will stand the test of time. The latest Uniqlo J+ Jil Sander collaboration launched last week, so if like me you're into stealth-y style you might like the cashmere blend cardi, the supima cotton tucked shirt and the pea coat. For quality basics made in the UK there's Our Patrick's Community Clothing, and nordic minimalism comes courtesy of Arket and COS. I met a friend for a walk this morning and she was looking very chic in an old Community Clothing reefer jacket and Arket jeans.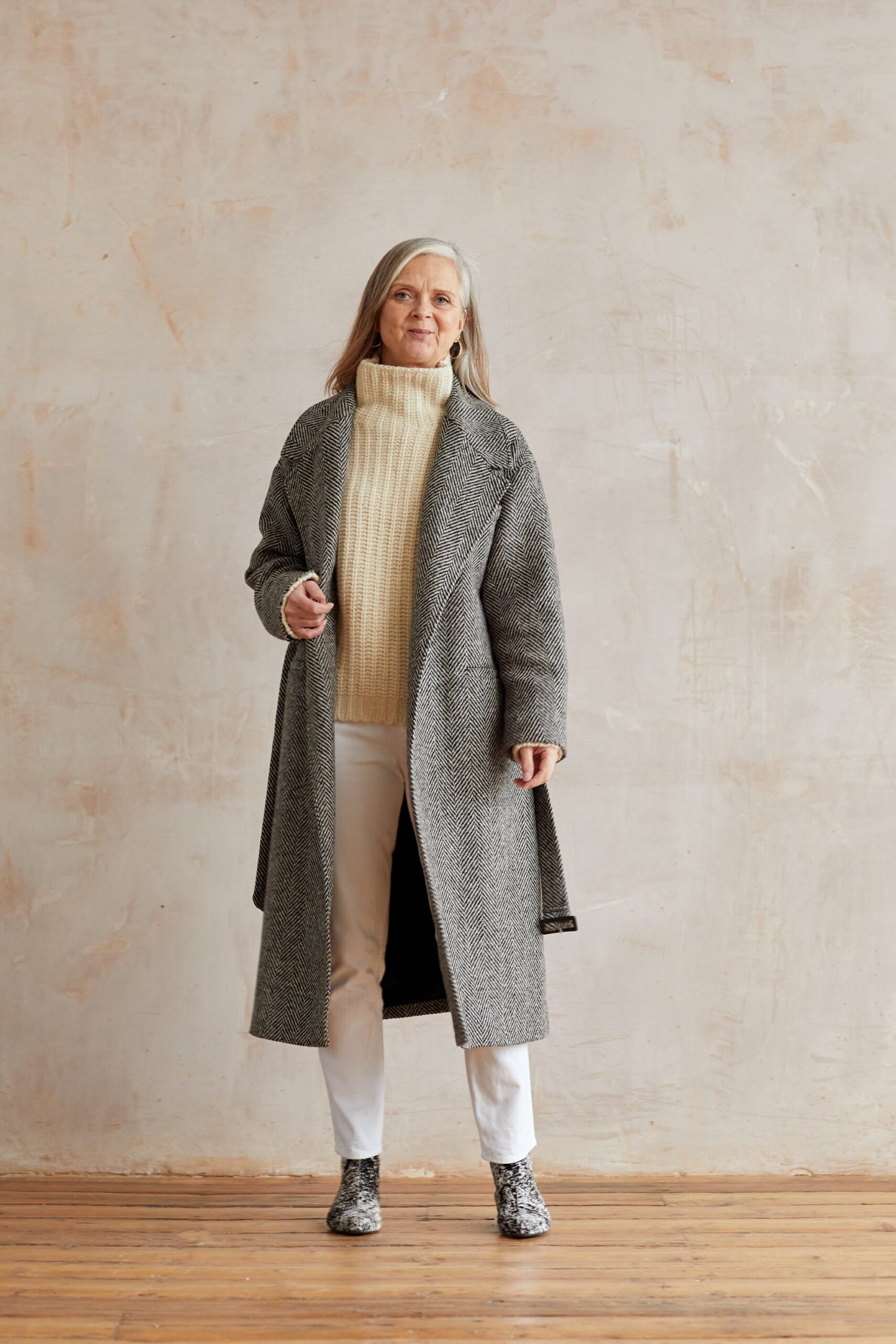 What I do before buying is take a look at what I already own  – and consider the following (I've answered the questions with the tweed coat in mind):
Do I really need this? Not really, I have several winter coats, two vintage faux fur numbers and one giant Duvet-style, though I don't have a smart, warm overcoat…
Do I have something similar already? That's a no
Do I love it?  Yes, it's a beauty
Is it the kind of thing I wear? I love tweed. I love simple, classic, androgynous design.  So, yes
And will I wear it at least 30 times? You bet!
In her brilliant book make thrift mend, author, artist and teacher Katrina Rodabaugh says, ' There are no perfect pathways in sustainable living – just better informed choices for the individual and the collective. Remember progress, not perfection.'

Please note affiliate links in this post may generate a commission