Christian Dior and other exhibitions for style-lovers in Paris, autumn 2017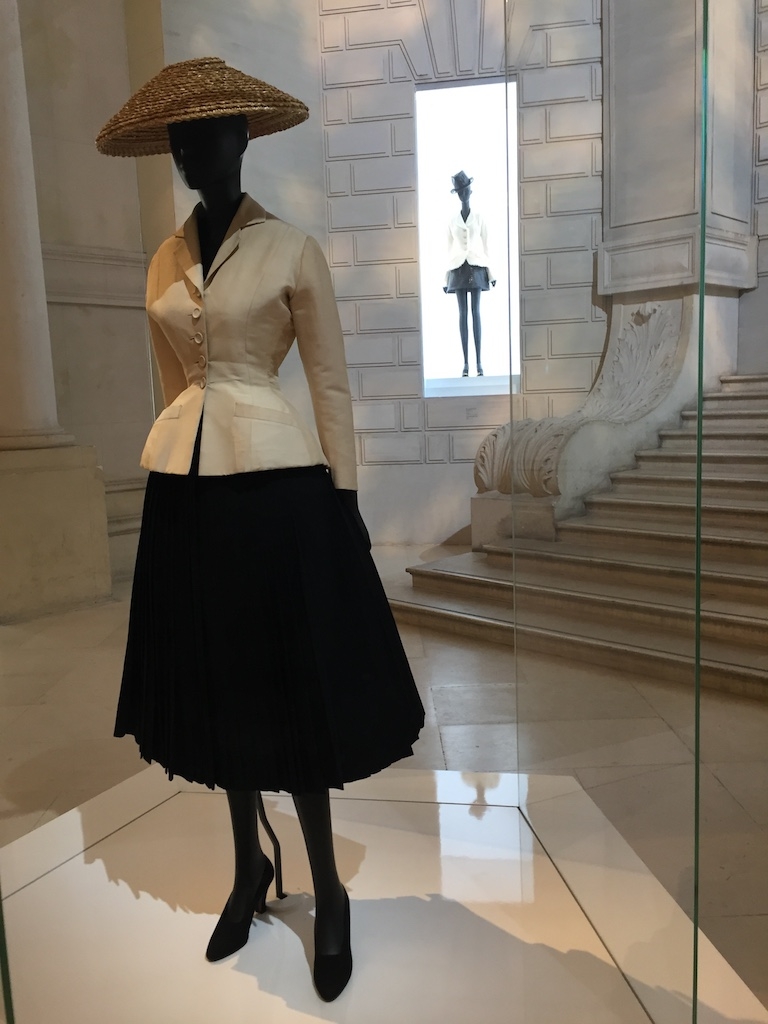 When Mr That's Not My Age asked if I'd like to go to see the Rolling Stones in Paris, of course I said 'Oui.' Secretly pleased at this opportunity to view a couple of must-see exhibitions in the French capital. As well as the septuagenarian rocker's impressive show (in 20 years time I hope I can move like Jagger) there was possibly the biggest blockbuster fashion exhibition, ever. Christian Dior: Designer of Dreams at Les Arts Decoratifs; a wonderful celebration of 70 years of the French design house. The stunning 'colourama' section shows brilliant doll-sized miniature designs, eye-popping outfits, elegant shoes and rainbow bright accessories set ablaze against a black backdrop. Though in true blockbuster-style, the Dior exhibition is a sell-out and this area gets quite congested. I much preferred it when the show opens out into 'the garden area' (below) and then across into the second half the museum. All the classics are there: the New Look, the Bar jacket, plus sections dedicated to all the other designers who have worked at the Parisian couture house, over the years. John Galliano's work is the standout. Absolutely stunning. Towards the end of the exhibition the glamour is cranked up with floor-to-ceiling displays of Dior tailoring and original toiles and the grand finale: a room full of jaw-droppingly beautiful ballgowns.
I've been meaning to write about Maria Grazia Chiuri the first female head of design at Dior for some time. I like her style. The 53-year-old Italian relocated to Paris to take the position, on her own (her family is based in Rome and her daughter Rachele studies art in London) and has given the couture house a contemporary spin. There's an interview with Maria Grazia Chiuri HERE. Christian Dior: Designer of Dreams at Les Arts Decoratif is on until 7 January 2018.
If you fancy shuffling around another blockbuster, then nip over to the Grand Palais for the Irving Penn and Gaugin exhibitions. And don't miss Malick Sidibé: Mali Twist at the Fondation Cartier. A retrospective of the African photographer's joyful images of young Malians partying in the 1950s, 60s and 70s. Both social commentary and style inspiration. Check out the park benches in Yves Klein Square on the way back to the Metro.
There's also a Mariano Fortuny exhibition on at the lovely Galliera Pallais, not to mention Yves Saint Laurent – though Monsieur and I ran out of time. Ne'er mind, perhaps the Stones would like to play in Marrakech…