Frida Kahlo: Making Her Self Up at the V&A
'Everybody thinks they know Frida, but actually they don't know her at all,' Claire Wilcox senior curator at the V&A has said. My Frida knowledge is hazy, I'm not going to pretend otherwise. I know all the usual stuff: contracted polio at a young age (six), suffered ill health throughout her life, had a monobrow, became a feminist icon. But before the V&A's new Frida Kahlo: Making Her Self Up exhibition, I don't think I'd realised quite how much the Mexican artist's life and art were connected. How much her disability fed into her work and her image.
At 18, Kahlo was involved in a near-fatal bus crash that fractured her spine and pelvis, a handrail pierced her body damaging her uterus; subsequent medical complications meant Kahlo was unable to have children. Her right leg, shortened by polio, was broken in the accident and the ankle dislocated. She never fully recovered and wore a medical corset on and off for the rest of her life.
While bedridden Kahlo started started to paint, using a mirror attached to the ceiling of her four-poster bed she focused on self-portraiture. The crash together with Kahlo's interest in Mexican traditional costume, shaped her identity and the way she dressed.
In 1953, her gangrenous right leg was amputated below the knee – and movingly, the prosthetic limb is on display at the Making Her Self Up exhibition. For me, the final two rooms at the V&A are the highlight. Displays of Kahlo's medicines, makeup – her Revlon 'Ebony' eyebrow pencil, red lipsticks and nail polish –  together with orthopaedic aids, underline the suffering and the carefully constructed style. The medical corset made of plaster and painted by Kahlo, numerous braces used to support her damaged spine, red leather boots decorated with bows, silk and embroidery. And the final room containing Frida Kahlo's striking outfits: the full-length tiered skirts used to disguise her disability, the embroidered Tehuana garments and chunky handmade necklaces; together with photographs of the artist – some taken by her photographer father Guillermo Kahlo.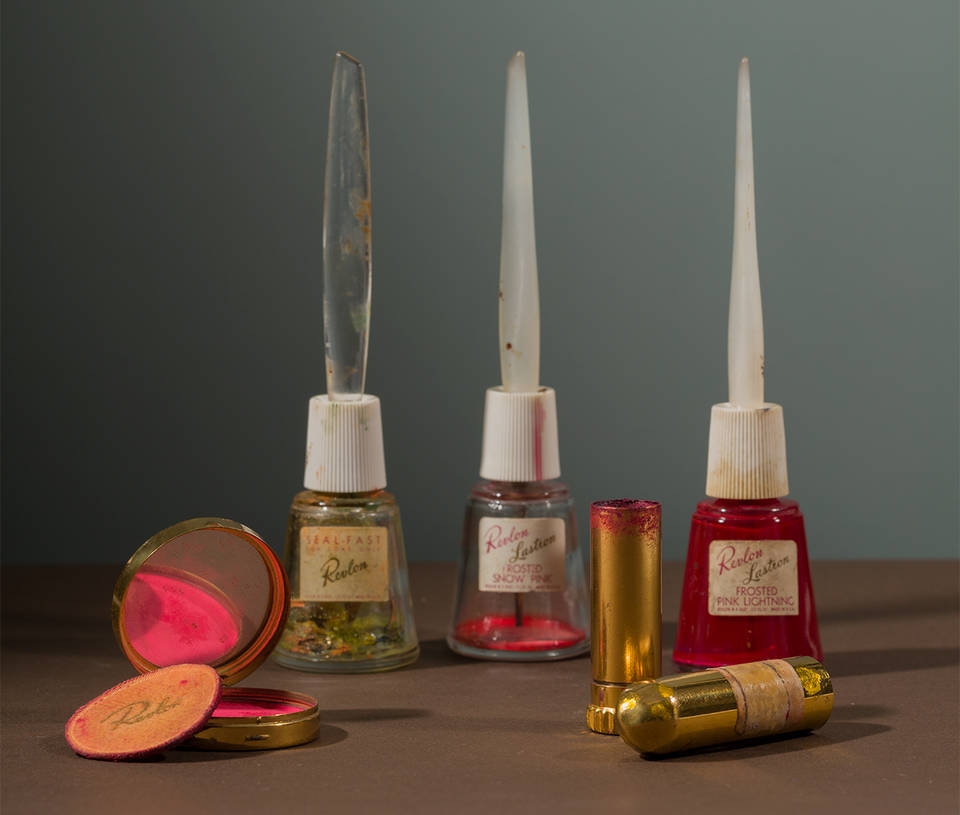 There were one or two Kahlo-a-likes floating around the campus when I was at college, and the outfit below really took me back and emphasized the artist's influence on fashion, as well as feminism.
This rare archive of Kahlo's belongings had been locked away in a room at the Blue House, where she lived with Diego Rivera. Discovered over half a century after her death, the items have never left Mexico before. The Making Her Self Up exhibition shows over 200 objects and offers a fascinating insight into Kahlo's life, art and identity. It's a must-see, whether you know the artist or not.
Frida Kahlo: Making Her Self Up is on until 4 November 2018. And there's an interesting piece on the V&A website: Unlocking Frida Kahlo's wardrobe.