Style Icon: Elena Bonham Carter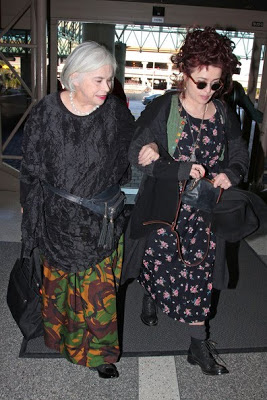 No, that's not a spelling mistake, that's the name of Helena Bonham Carter's mum. And here she is looking absolutely gorgeous earlier today – first, dressed down at LAX airport and then wrapped up warm at Heathrow. Don't you love the camouflage maxi skirt? Extensive research tells me that Elena Propper de Callejon (or Mrs BC senior) is a French-Spanish psychotherapist.
When the 44-year-old actress won a Bafta, she dedicated the award to her mum in a very touching, if not a little long-winded, acceptance speech, 'This is for all the best supporting wives — the Queen Mother herself, and my mum. There is no doubt that if my father were alive, he would have given it to her. She was the best supporting wife you could ever have wished for.' Ah, lovely.
In matching jewel colours and voluminous skirts at the British Independent Film Awards
And finally, Elena Bonham Carter treats a sulky Victorian boy to a day out at the Chelsea Flower Show:
Who needs an Oscar when you have the coolest mum in Tinsel Town?
Photos: Daily Mail, Zimbio and fuck yeah helena bonham carter