My bra history goes like this: young, flat-chested and embarrassed, I would guess my size and grab the first bra I could find in M&S, rather than actually seeking advice or trying anything on. Older, saggier and less concerned about what other people think, I'm more inclined to loiter in underwear departments, demanding attention and feeding my expensive lingerie habit. I'm wondering if there is a correlation? As confidence and earnings go up, nipples head in the opposite direction.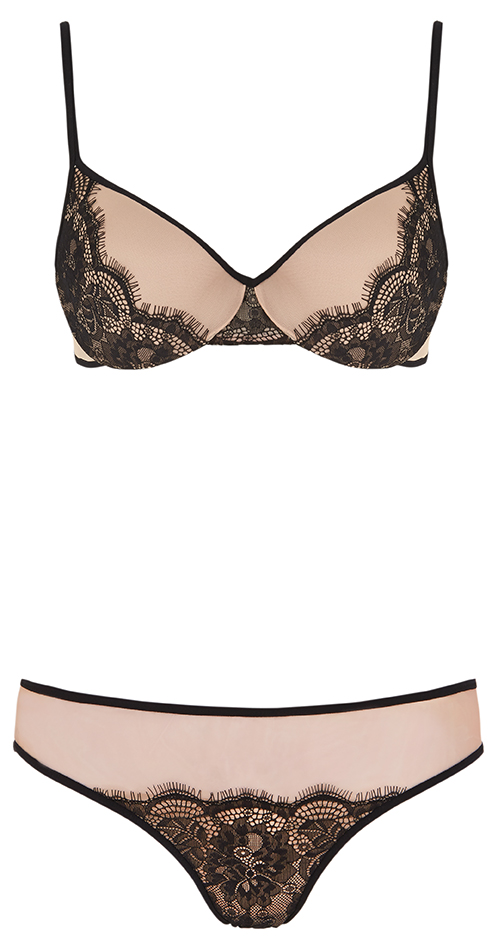 Age, hormones, gravity – as we get older, our breasts change size and shape, becoming more fatty and less glandular and hence softer and less pert, particularly after menopause. "Sagging is a natural occurrence," states Nancy Schazno-Dressel, lingerie buyer for John Lewis, "and there's nothing wrong with that, but many women stick with the size they've always had, even when their body changes shape."
No fear of that, I much prefer to go for a proper bra fitting, now. One of my top tips on staying stylish for ever is to spend time finding clothes that fit, whether that's shoes, tailoring or lingerie. Clothes just look so much better and can boost confidence when they fit properly.
In Style Forever, I mention that some of my favourite lingerie brands are French, I've gone into a bit more detail and spoken to bra fitting experts in my latest feature for the Guardian. The fuchsia lingerie set (above) is from Simone Perele's Caresse range, available HERE. I have it in black and nude and am awaiting the arrival of pink; it's a great everyday bra and I'm a big fan of a flash of colour. There are also a couple of Caressse bras left in a lovely dove grey, HERE. Though my absolute favourite style is Chantal Thomass' Noeuds et Merveilles – which roughly translates as nodes and marvels, or as I'd like to think marvellous nodes – fortunately this is one of the brand's perennial classics, available HERE.
Read my full Guardian feature HERE. What's your bra history like?