Desperately seeking structure – how to sharpen up your summer style
Phew! This is the first day I've felt cool in about a month. I'm not going to bore on about the weather, I'm sure you've had enough of the great heatwave of 1976-blah, already. Thank heavens for some rain, the country looks like a dust bowl and it's abundantly clear that our infrastructure simply can't cope with relentlessly high temperatures. Having resorted to holiday clothes at home, my high summer wardrobe is looking as frazzled as the grass in our local park. After weeks of wilting in the heat and feeling a bit crumpled around the edges, it's no surprise I'm craving a little sartorial structure, again. And yes, it has been hard to keep my cool, even with a burgeoning iced coffee habit…
What is needed is to shift things away from exhausted holidaymaker to business creative, is an outfit with both the waft factor and the work factor. Clothes to help me feel pulled together and productive. In search of something easy-breezy, timeless and elegant, I turned to the trusty shirt and skirt combo. This is a classic ensemble that should not be overlooked. The aim to look as effortlessly cool as the late Jackie Kennedy Onassis and present day Carolina Herrera . The patchwork, midi skirt loaned from Toast is a cracker (still available HERE). Worn with a cotton poplin shirt, a pop of colour and proper sandals. Job done.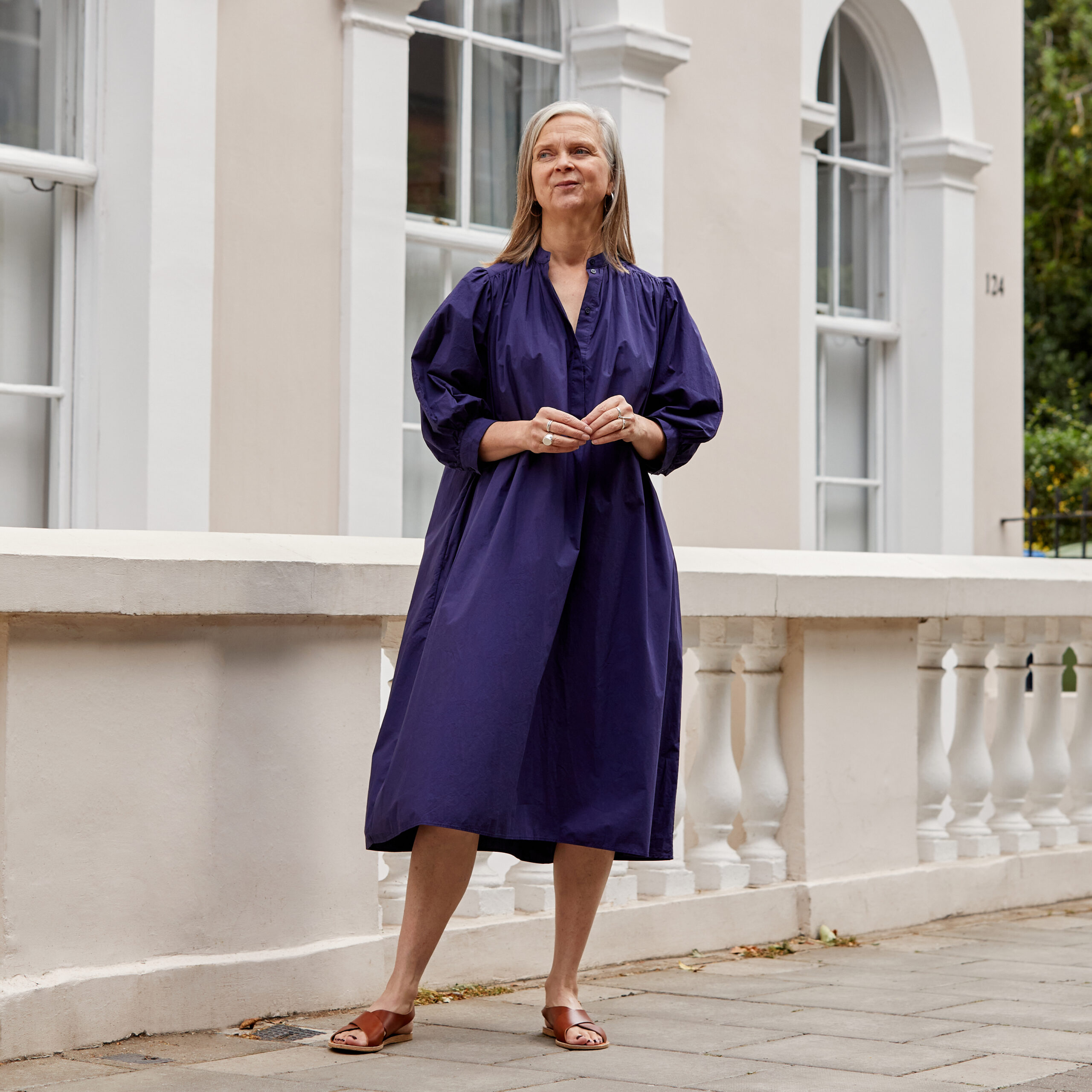 Freedom of movement is important, whatever the season. Even though I have previously said that I'm bored with the voluminous buffet dress, on days when a fitted waistband feels like a rib-crunching corset, I've been wearing this wafty Cos number. (No longer available, bought in the sale earlier this summer). The roomy silhouette, crisp cotton fabric and lovely shade of indigo blue make it easy-to-wear and easy to move in. This is one of those versatile dresses you can pull on and forget about. I've worn it for work, travel and rooftop drinks – and in my book, that makes it a winner. I know many TNMA readers aren't fans of billowy summer dresses, and if you don't want to pump up the volume, I would always recommend a shirt dress for a bit more shape and polish. Stay cool.
More summer structure here:

STYLE NOTES
First outfit: I bought the blue tuxedo shirt from the Uniqlo J+ collection (earlier this year). Patchwork skirt loaned from Toast. Nappa leather, yellow cross body bag loaned from sustainable brand Hopeful London. My own Ancient Greek Sandals.
Second outfit: my own Cos dress jewellery and Ancient Greek Sandals.
That's Not My Age is supported by its audience. When you purchase through links on our site, we may earn commission on some of the items you choose to buy.