Easy summer style: the jumpsuit and jacket combo
Oh, jumpsuit joy. Over the last few, humid months I've missed wearing my 'grown-up onesie,' but no one wants to be boiling in their boiler suit. In high summer the jumpsuits are temporarily sidelined, replaced by wafty kaftans and Super Shirts. But now it's cooler/wetter/windier, and because I've become a bit of an all-in-one obsessive, I've tentatively shifted back. For business appointments on in-between days, the versatile jumpsuit plus a lightweight jacket equals a winning combination. The sharpness of the blazer bringing just the right amount of polish to the relaxed vibe of the jumpsuit.
Never underestimate the power of the all-in-one. The jumpsuit has superb pull-on-and-go properties, ease of wear (look mum, no gaps) and handy pockets; the time-saved getting dressed in the morning is such a bonus, I simply view this as a trade-off for the extra time needed in the bathroom. And while we're on the subject: keep an eye on sleeves, hang onto them while doing your balancing act or loosely tie together to avoid dropping them down the toilet bowl or onto the floor of a less-than-clean public loo. The only occasion I tend not to wear a jumpsuit is when travelling. This, a consequence of being caught out on a train to Cambridge, in one of those big loos with an automatic door and numerous buttons. Blimey, how I screeched at two equally-embarrassed Japanese tourists. Never again.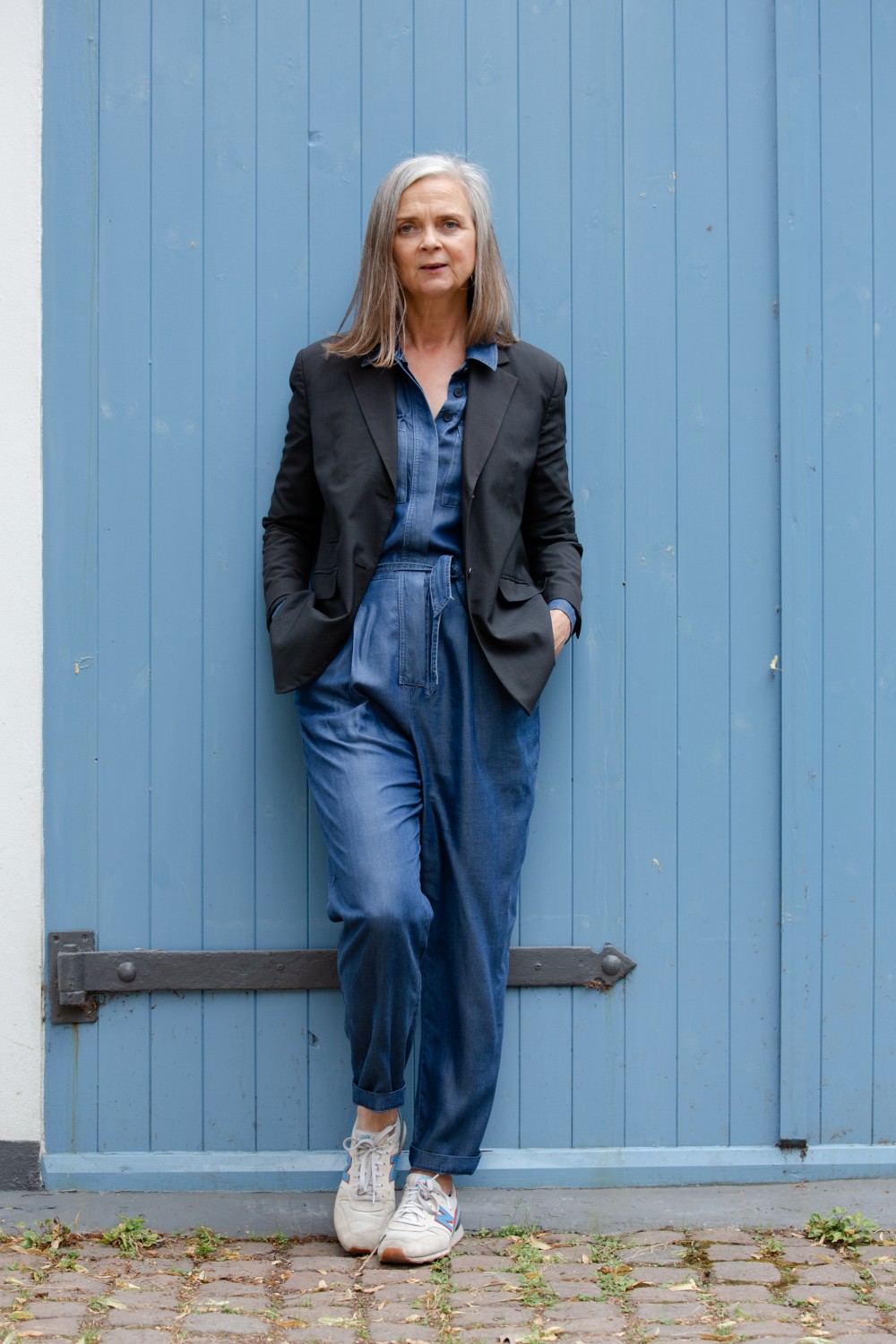 Style Notes: This jumpsuit was a gift from Baukjen last year, it's made of sustainable chambray and I like the neater fit (some of my jumpsuits are quite voluminous). You can find similar versions HERE and HERE. The lightweight jacket is old Acne Studios. My trainers are from New Balance ( J.Crew collaboration, several years ago), similar HERE.

Please note: affiliate links in this post may generate commission.