Fabulous Fashionistas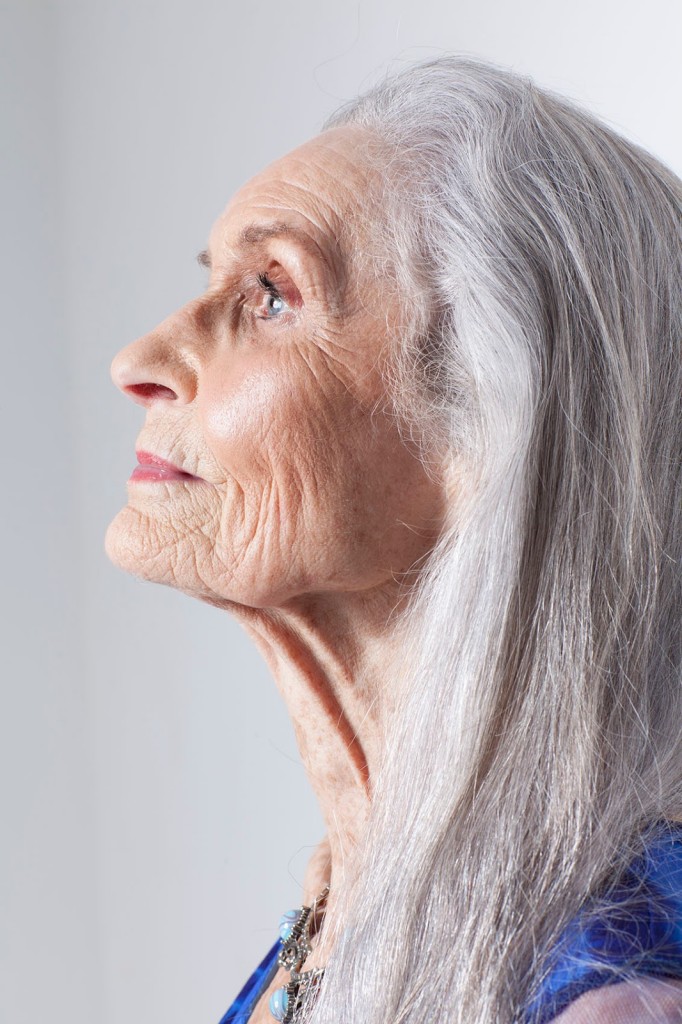 85-year-old Daphne Selfe.
Everyone, keep next Tuesday evening free. There's a brilliant, not-to-be-missed documentary Fabulous Fashionistas on Channel 4, starring six inspirational women whose average age is 80. Director Sue Bourne contacted me about a year ago during the research stage, we met for lunch and talked fashion, style and how to have an old age that's not 'boring, invisible and grim.' Bourne has an impressive track-record: executive producer on the 9/11 documentary Falling Man, her other work includes Mum & Me a very touching programme about her mother Ethel's struggle with Alzheimer's, a series on law-breaking pensioners called Bus Pass Bandits and a Cutting Edge documentary about all the people who live on her west London street (116 in total). Bourne's work has warmth, intelligence and compassion, and this latest project is fantastic – I bloody love her!
73-year-old artist Sue Kreitzman.
One year on, and I manage to catch up with the director in between TV appearances alongside the stars of the show. 'It was really hard finding these women,' she admits, 'I found people who were still working and didn't want employers to know their age, and one woman who had just borrowed a lot of money from the bank and didn't want them to know she was 70.' Although Bourne wanted to avoid celebrities and models, an exception was made for 85-year-old Daphne Selfe. The final Fashionistas include Britain's oldest model, 'allowed in because she was discovered in her seventies and that's when her career really took off.'
I've often thought that this blog could be my mid-life crisis online. That's Not My Age is a forum for confronting ageing (and ageism), a way of working things out and 'finding inspiration from those who won't go gentle'. So, I ask Bourne if the same applies to Fabulous Fashionistas: 'Oh god yes. I pretend it's of interest to other people but really it's because I'm fascinated. I'm looking for role models for the next stage of my life – and these women are pioneers, they're redefining old age. Christ, their average age is 80, I want to be like that! '
I've seen a preview of the documentary and it's brilliant. But this isn't a film about fashion, what unites these women is a determination to keep on going, in spite of illness, loss and everything else life has thrown at them. 'If I'd gone to my producer and said I wanted to make a film about older people they wouldn't have commissioned it,' confesses Bourne, 'The prism of fashion makes it fun, makes it visual, makes it interesting. Actually, it's a film about life, it's a film about ageing, it's a film about spirit.' It's obvious that the director shares the same steely determination as the show's participants, 'I want films that make you smile and are hopeful about old age. The world is quite tough at the moment and I want young people to know that there is a future and a tomorrow. I would like people to look again at old age.'
So, did working closely with a group of Fabulous Fashionistas have an impact on Sue Bourne? 'These women all have their own indomitable spirit, and in a sense, they gave me life lessons. I've had a tough few years – mum died, I'm on my own – and you meet these women and you think "Alright. Pick yourself up, dust yourself down and keep going."'
The final fashionistas: 75-year-old Jean (directly above) and 91-year-old Baroness Trumpington (wearing black leather).
As 73-year-old artist Sue Kreitzman says, 'Growing old is a privilege, an adventure. You think about death but you choose life – just don't wear beige, it might kill you.'
Fabulous photographs: Christopher Kennedy