Five of this year's most-stylish women over-50
Though scrolling through my Instagram feed is not quite as joyful as it once was  (bugger off, Reels!), I still love seeing older 'Grammers enjoying life and style on their terms. An array of wonderful over-50 influencers displaying experience, character and wardrobes full of amazing outfits collected over the years. Self-acceptance and feeling comfortable in our own skin – even if it is a bit wrinkly – comes with the midlife territory. And, as the show-and-tell culture of social media has demonstrated, we do not have to dress a certain way because we are certain age. We're all styling it out, experimenting with our signature look and wearing what we please. As a result, women over-50 are trending like never before.
So, I thought it was high time I shared five of my favourite women to follow. Style queens who are more than just the clothes they wear. They stand out from the online pack thanks to their impeccable dress sense, creativity, and individuality.
Deborah Nolan @tulsishop
Deborah Nolan has honed fashion sense through running four fashion boutiques in Puglia, Southern Italy. The impeccably dressed, London-born designer shares her bohemian looks daily, to a dedicated following. Exuding confidence and joy in every picture, her outfits are a masterclass in blending colour, proportion and texture. Living in a warmer climate means focusing on easy, unstructured silhouettes in natural fabrics and breezy layers, making her feed the ideal source of sartorial inspiration for a holiday-slash-heatwave wardrobe. Many of the clothes Deborah showcases are from the Tulsi shop, where she sells an eclectic edit of clothing and accessories from craftspeople in Mexico, Africa, India, Vietnam and Thailand featuring natural dyes; handwoven fabrics; homespun textiles; and block prints. This imbues her style with artisanal, adventurous spirit. As a perennially pared-down dresser, I am full of admiration for women who can successfully pull-off this kind of maximalist look.
Neelam Ahooja @neelam.ahooja
I'm always looking for new ways to channel gentlewoman style, and one of my favourite sources of inspiration is Neelam Ahooja. The 51 year-old Canadian stylist is an expert at creating refined, simple and understated outfits that are offset by edgy accessories and her gorgeous curly hair. Fashion minimalists will adore her modern sense of style. Her outfits a slightly undone and relaxed quality with a focus on clean lines, sharp tailoring and a muted colour palette. A super fan of Olsen-owned luxury brand, The Row, Ahooja has amassed a vast collection of pieces from the label (both second-hand and new). She often mixes the label's refined clothing and accessories in her outfits, which she then matches with more mainstream and affordable shops such as Banana Republic, COS, Arket, Massimo Dutti and Studio Nicholson to create high-low looks with impact. Ahooja shares her unconventional styling tricks like half-tucking, off-beat layering and asymmetrical hemlines via Youtube and TikTok including some useful tips on unique ways to layer shirts.
Jannine Newman @underthecloth
I've mentioned Jannine previously on That's Not My Age, but wanted to re-introduce you to one of my favourite women on insta. I find her approach refreshing because the outfits feel real and there's no showing off or dressing up for 'likes' on social media. She sells vintage and preloved clothes and also runs the highly successful The Assembly Market (a marketplace for independent sustainable fashion and interior brands). Jannine @underthecloth wears vintage clothes beautifully, and has a brilliant eye for blending second-hand and modern pieces. When putting outfits together she plays around with different proportions and colour palettes, mixing old and new, feminine and masculine – to marvellous effect. Most of her outfits are co-ordinated with cool sneakers and chunky sandals, adding even more appeal for comfy-shoe devotees, like me.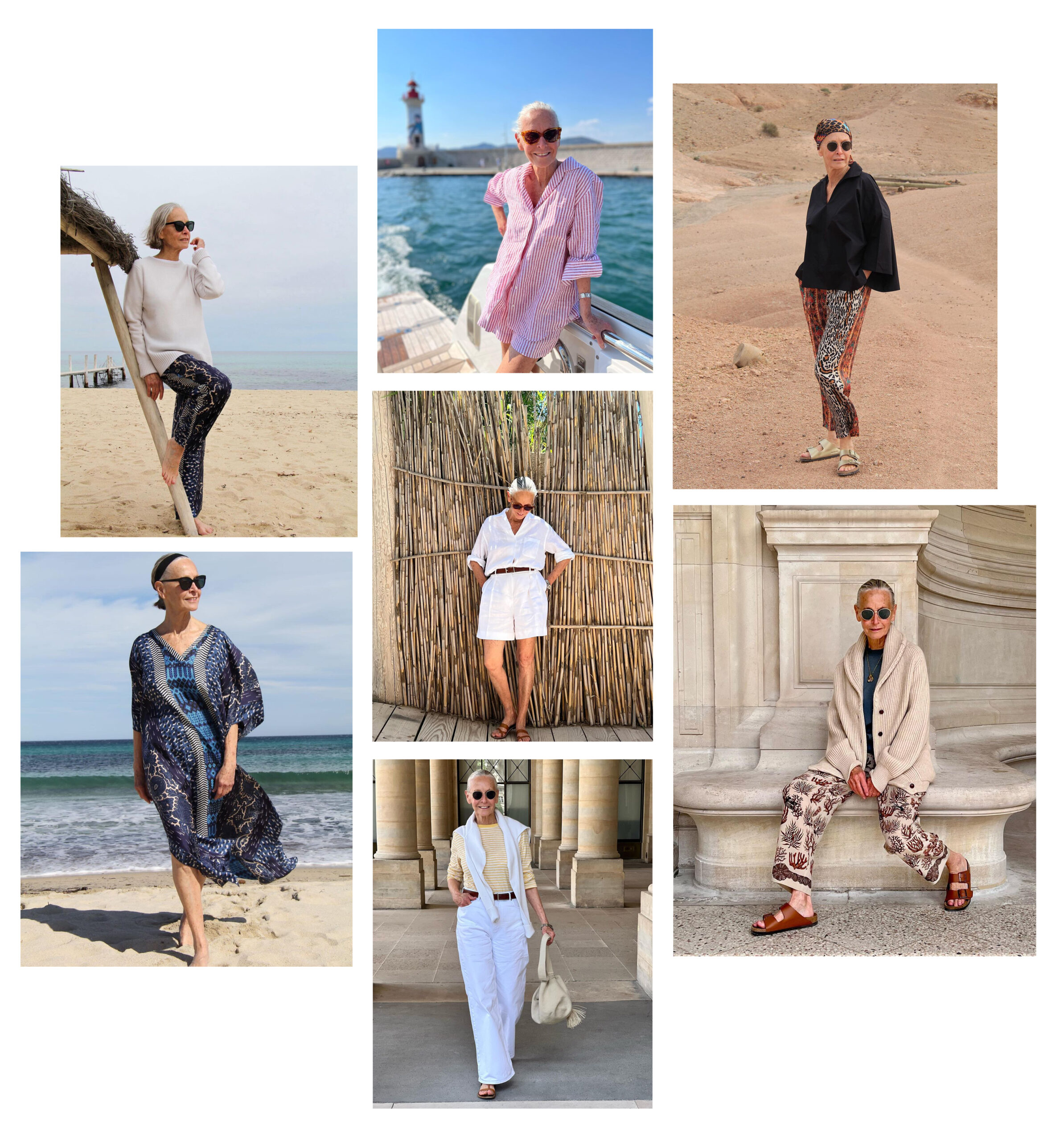 Linda V Wright @lindavwright
Regular readers will know that Linda V Wright is one of my style heroines and I am always encouraged when her version of Parisian Chic pops up on my Instagram feed. A fan of fuss-free, preppy, tomboy style, you'll often find Wright dressed in classics like an oversized white shirt, tucked into straight-leg denim jeans with leather Gucci loafers, or a striped t-shirt with slouchy pants and sandals – chic combinations that she makes look effortlessly carefree. Her affinity for menswear, has her regularly sporting chunky mens shoes, shirting and tailoring. I love how she makes relatable basics look interesting with expressive styling tricks that take them up a notch, for instance: cuffed hems; chunky leather belts; sweaters looped around the shoulders; and shirt tails peeping out from jumpers. As a former model and fashion Editor, Wright (who runs the Crimson Cashmere boutique in Paris, France) often showcases her store's colourful collection of knitwear also on her website.
Olivia Roussel (Lewzey) @olivialewzey
If ever I'm looking for print-spiration, I turn to Olivia Roussel's feed. Her style is epitomised by a maximalist mix of prints and proportions – the outfits she shares online are full of graphic silhouettes, artful textiles and chunky footwear. Olivia lives between Hertfordshire and London, and runs a brilliant vintage fashion emporium on Etsy. Her wardrobe is largely made up of preloved finds which, in playful contrast, she wears alongside items from lesser-known British brands like LF Markey and Mother of Pearl. 'When I'm out shopping I always find myself drawn to an interesting print or a bold pattern,' she tells me. 'I also love a piece that offers an interesting detail to it – be it the cut of the item, its fabric or its pattern.' Wearing colour is a big thing for her, 'If you combine a fab print with a great colour then I'm hooked! I look so much better in colour and often feel that all women generally do.' She also has a penchant for A-line flares and in-and-out shapes, so therefore, is a great source of outfit ideas if you share an affinity for these silhouettes.
Whose style do you admire?
All images from the creator's instagram pages