Grey hair has changed the colours I wear…
Coiffeur to the silver-haired stars (and many more) Josh Wood once told me that, 'Grey has to be a statement, it's got to look striking. Never middle of the road. I think you can either turn up the volume and wear brighter lipstick and so on, or go the other direction for that incredibly natural Scandi vibe.' And though I love bold lipstick and brilliant colour on other women, such as Linda Rodin, Caroline Issa and Tracee Ellis Ross, I'm definitely in the natural camp. I'd much rather tone it down than turn on the neon. But every woman is different and what works for you, works for you.
Once I'd grown in the grey (and grown out the blonde dye), I noticed the many different colours in my hair: a dandelion clock of white around the face, a mixture of dirty blonde, mousy brown, silver grey and random reddish streaks throughout. Over the course of a few years, my natural hair revealed itself and I liked the new Scandi-licious look. I may not be blessed with gorgeous, pewter locks but it feels authentic, suits my complexion and saves me money. There's definitely no going back. And, I haven't felt the need for a technicoloured revamp, why bother with a major wardrobe overhaul when I'm happy with my favourite shades of navy, indigo blue and olive green…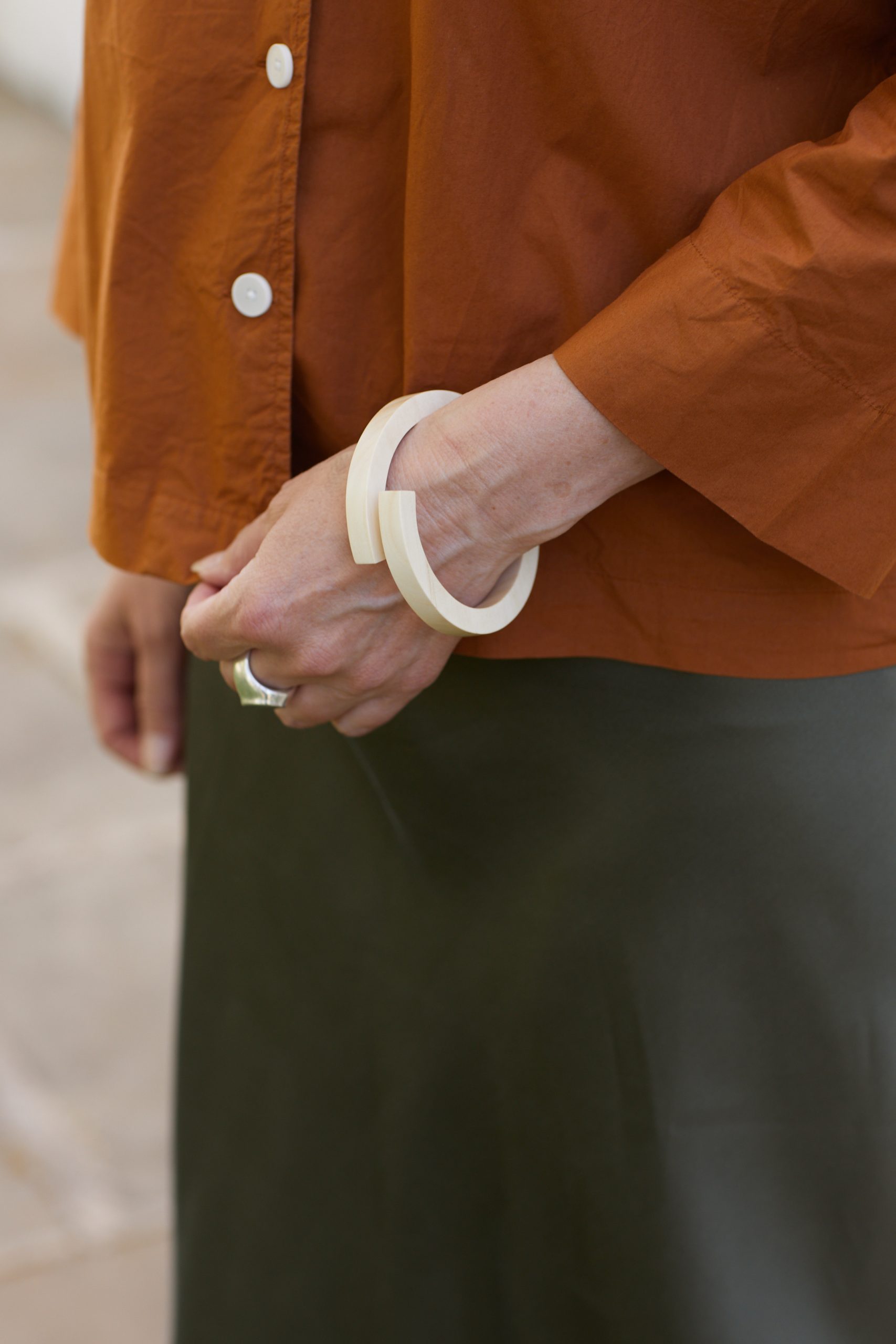 As with the slow process of growing in the grey hair, I decided to let nature take its course and see what happened in the wardrobe department. Allowing new colours to gradually enter my closet I have found that I am drawn to shades of caramel, rust and camel – hues that reflect the natural streaks in my hair. And I've surprised myself with a lovely pink blazer and a mustard yellow raincoat. Recently, I swapped my pale khaki utility jacket for a darker bottle green number (all the new shades blend in with my regulation blue/ green backdrop). You would think that grey hair is not a far cry from blonde; and these are relatively small tweaks. I'm not going bold but I'm definitely choosing warmer tones and expanding my repertoire.
Grey hair has changed the colours I wear.

STYLE NOTES: Poplin PJ Shirt was a gift from Toast (still available but not in this colourway). All other clothes and accessories are my own. The silk skirt I bought from  The Outnet. My velcro strap sandals from Suicoke are still available at matchesfashion.com HERE. The Packable Tote bag is Arket. The wooden bangle is from Branch Jewellery. My rings are by Claire Stratton.
For a similar silk maxi skirt try Jigsaw, and at the more expensive end Ralph Lauren  (available HERE (US),  HERE (EU) and HERE (UK)).
*Please note: That's Not My Age uses affiliate links to gain a small commission on items purchased through the site