The versatile velvet jacket
Velvet for daywear. Like leopard print and Lurex, it's an essential in the Casual Glamourpuss' armoire. Looking for a non-black alternative to The Once in a Lifetime Tuxedo jacket for book-signing events (more details coming soon), the versatile velvet jacket has been top of my list for a while. And juxtaposed with denim, velvet adds a sprinkling of decadent luxury to an everyday outfit. I've tried on several styles – including the Theory blazer in New York last week, which I liked: available in magenta and a lovely bottle green colour and selling out fast. But first, I wanted to cop a feel of Frame's stretch cotton velvet jacket – always like to assess the situation properly before making a purchase. Went in-store thinking coral pink, came out with charcoal grey. Timeless. There's also a Frame leopard print style that I'd snaffle if My Purse was on Fire! But it's not and I'd already bought a pair of sequinned hi-top Vans (see side bar; sadly only available in the US) and a tin of cinnamon Altoids. So that was my lot.
These photos were taken running around between meetings in New York and I've also worn the versatile velvet jacket to drinks and dinner. Plus, it would work a treat over a party dress or teamed with a maxi skirt and fancy flats. More dressed-up version coming soon.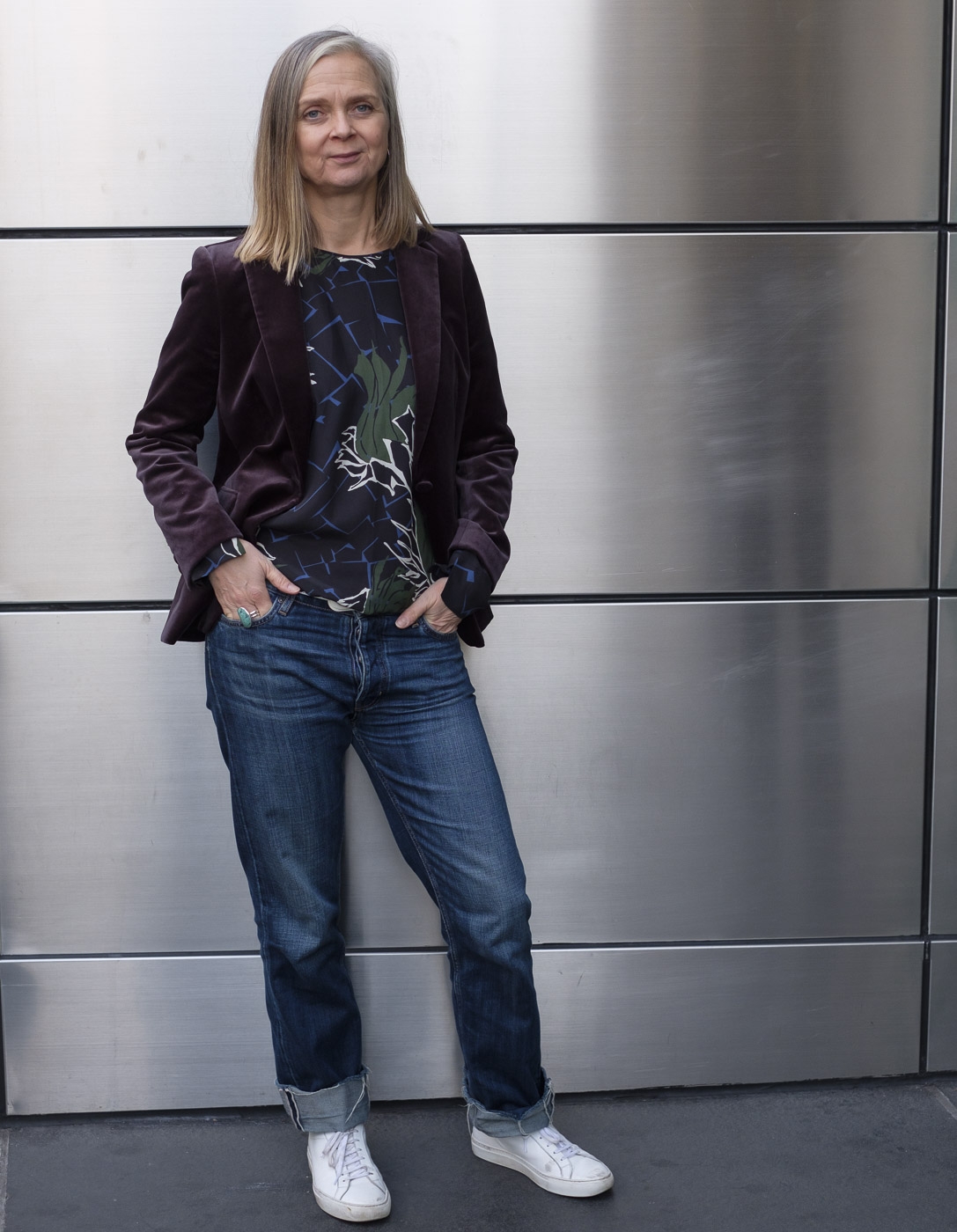 Enjoyed all the comments on the Belle & Bay cashmere post and will look further into manufacturing in the UK when all the book stuff calms down. This outfit is definitely more casual than glamour so I hope I don't look like I'm mucking out the horses!
My jacket was a bit of a blow-out, for less expensive, non-black velvet jackets try Boden, Jigsaw, J.Crew, Hobbs and Madewell.

Please note: affiliate links in this post may generate commission.
New York photos are by Denton Taylor.