What to wear in a heatwave: it's the summer of the shirtdress
What's hot right now? We all are. But hasn't this summer been brilliant? I went up north to visit family and friends in Manchester and Blackpool and we had four days of glorious sunshine – a scenario not experienced since the legendary heatwave of 1976. As for the World Cup final, well, that's been even longer but we are still IN the competition. And I am very proud of our young squad and our dignified manager Gareth Southgate. Anyhow. Looking for something to keep me cool and flush-free for a panel event last week, I succumbed to the shirtdress. Having worn a silk maxi dress to a meeting a few days earlier, I felt a little crumpled and too holiday-ish. Admittedly, it's hard to keep your cool in this heat, but crisp, cotton poplin has both the waft factor and the work factor. The Shirtdress of Dreams is from Joseph and was greatly reduced at over 60% off in the sale. (I found mine at Liberty, it was literally the last one on the rail but is still available/ more expensive HERE). It's a beauty and has smartened up my summer act, no end. Like a typical shirtdress or shirtwaister this has a tie belt, one that can go back and forth:
The faff-free Toast shirtdress below is in a much heavier cotton drill fabric that's too heavy in a heatwave but good for running around in on cooler summer days.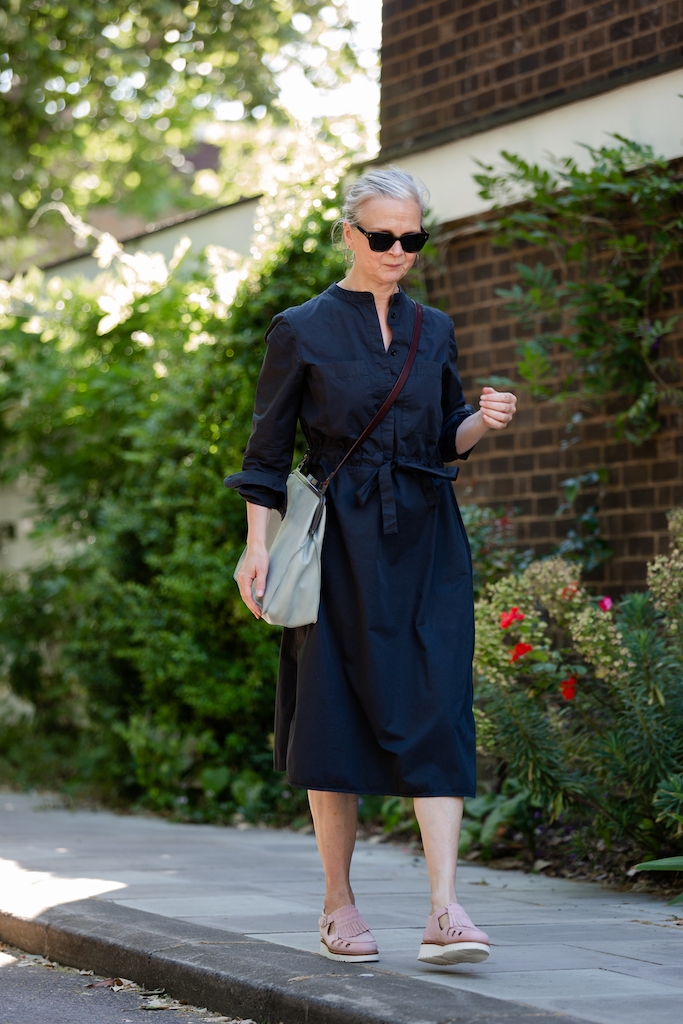 Nevertheless, this is the summer of the shirtdress. Only natural fabrics are acceptable in a heatwave; carry a bottle of water and a small fan and try not to overheat when your football team ends up in a penalty shoot-out. Fingers and toes, people.
Style note: leather frame bag is a few years old and from Ally Capellino. The shoes were loaned from Grenson, for the shoot. More summer dresses HERE.
Have you succumbed to the shirtdress?