Being inspired by the photography of Saul Leiter
If you've seen the Todd Haynes' film Carol these pictures will feel very familiar. Beautifully shot by the cinematographer Ed Lachman, Carol was visually inspired by the work of the late photographer Saul Leiter. Feeling in desperate need of inspiration, myself (it's true what they say about all work and no play), I took myself along to a preview of the Saul Leiter exhibition at The Photographer's Gallery. New York, fashion, photography – I'm there. Leiter was a mid-century, New York street photographer who started out as a painter and went on to be commissioned by Harper's Bazaar, Vogue and Elle. He used colour Kodachrome film in the 1950s and 60s before it was fashionable – the Museum of Modern Art  in New York didn't show an exhibition of colour photography until 1976 – this film was expensive and so Leiter would buy stuff that was past it's sell-by-date. He liked the muted effect it had on his pictures.
There's one shot in the film where Cate Blanchett is in a slow-moving car, cruising down a New York avenue and it feels like one of Leiter's painterly images has come to life…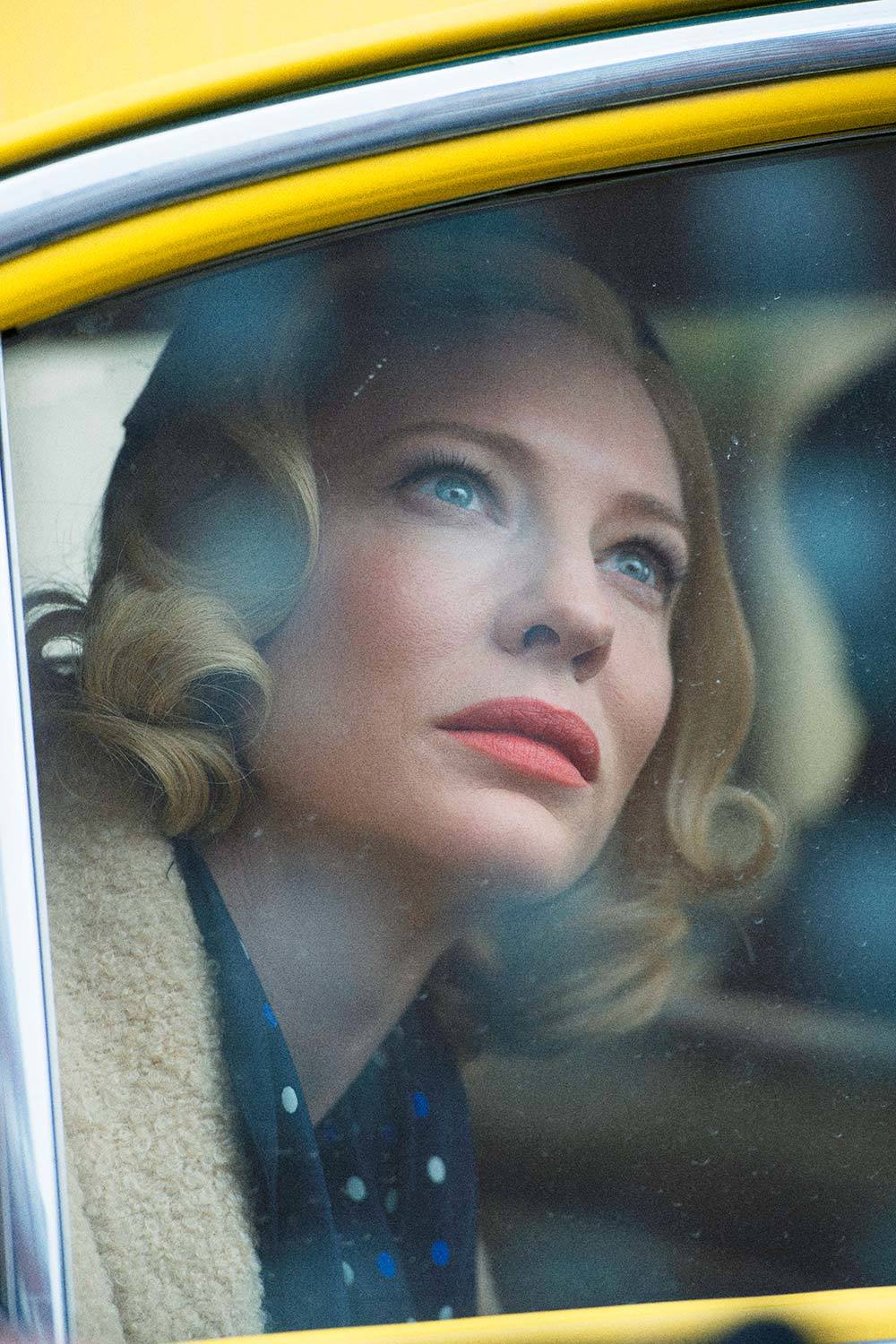 Leiter's work is incredibly atmospheric; he was a master of layering, often viewing subjects through windows blurry with condensation or reflected in a distressed mirror. I love the composition and his ability to home in on certain details: the diamond ring on a woman's hand shot through etched glass, a yellow hat on a rainy street, a bright umbrella in the snow.
The muted colours and tones have a wonderful romantic feel. Going to see the Saul Leiter exhibition was a complete tonic. I just hope he told this man to take his foot off the seat…
Cate Blanchett's performance in Carol is totally mesmerising and I've got an inkling she's going to be busy come awards season (though Charlotte Rampling in 45 Years would be amazing). Blanchett's wardrobe was stunning, too, and I'm pleased to see that Sandy Powell has been nominated for an award for costume design .
Saul Leiter is on at the Photographer's Gallery until 3 April 2016.  It's inspirational.